TheWB is the official destination for the Supergirl Jam! Get to know these incredible Supergirl Ambassadors, and learn about their journeys.
Fabiola da Silva
Perhaps the most widely recognized athlete on inline skates, Fabiola has everything: looks, brains and raw talent. From 1996 to 2001, she picked up six X Games gold medals. In 2002, her skating skill forced the inline industry to rethink the entire structure of vert competition. Now, she competes with the men and almost always finishes in the top ten taking the podium for the first time in 2008 with a 3rd place finish at the LG Action Sports World Championships in Seattle. In 2005, she became the first woman to pull a double back flip, a trick that only a handful of men can do. Not only can Fabiola compete at the highest level on the half-pipe, she also puts together gutsy park course lines. Fabiola has appeared on MTV's Switched and Jimmy Kimmel Live and she is currently in negotiation with a Hollywood production company who wants to make a movie out of her life. A true ambassador for women in sports and for skating as a whole, Fabiola continues to push her limits. Inline skating never looked so good!
Lauren Perkins
Lauren Perkins is one of the top up-and-coming female skaters in the world. The Huntington Beach, California, native started skating in 1998 after a skatepark was built near her home. A self-proclaimed tomboy, Lauren taught herself how to skate. By the age of 12, she had become so skilled that she won first place at a Gravity Games amateur contest, beating 45 boys. A year later in 2002, then two months shy of her 14th birthday, Lauren took first place at the All Girls Skate Jam in Huntington Beach, Calif., competing against some of skateboardng's top female pros. That same year, she finished in the top three in Women's Street at the Slam City Jam in Vancouver, British Columbia; the World Cup Australia in Melbourne, Australia; and the Triple Crown Finals in Oceanside, California. Lauren's accomplishments continued to multiply in 2003, as she finished second in Women's Street at both the Slam City Jam and the West 49 Canadian Open. And in 2008, Lauren took home gold in the Skateboard Street at the Supergirl Jam in Huntington Beach, California. Lauren is living proof that her advice to aspiring skaters "to never give up on your goals and dreams" are true words to live by.
Chanelle Sladics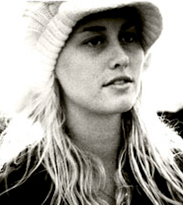 Born in Newport Beach, California, Chanelle found her roots in boardsports in the ocean across the street from the concrete jungle she calls home. She started off as a surfer and skateboarder, but found her snow career during weekend trips to Big Bear and Mammoth in California. There she discovered a love for competition in snowboarding and excelled quickly in order to keep up with her fellow competitors. After succeeding at the junior level, Chanelle entered the professional snowboard scene only a few years ago with some great contest results, but she always set the X Games as her pinnacle. In 2007, Chanelle's dreams were almost squashed when she took a hard bail and suffered a painful back injury during practice at the X Games. But with her one goal in mind, Chanelle sucked up the pain for both of her final runs and made her dream come true, she took the podium at the Winter X Games for the first time.
Kassia Meador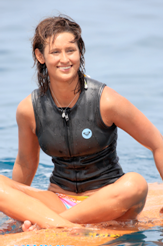 Kassia Meador learned the art of riding longboards at California's famed Malibu Surfrider Beach when she was 14 years old. Quickly discovering her natural surfing talent and love for the ocean, Kassia dedicated most of her free time to the hallowed waves and beach culture of The Bu, refining herself into a smooth, stylish surfer with a graceful noseriding repertoire. Kassia won the first contest she ever entered — the Roxy Wahine Classic at San Onofre, California — and, since, has maintained a constant presence atop the ranks of women's professional longboarding. For the past 9 years she has been traveling the world as a pro surfer and popular Roxy swimsuit model. Known for her radiant smile, charm, and contagious laughter, Kassia's visibility and reputation within the surf industry has allowed her the opportunity to become a mainstream media spokeswoman for female athletes. Kassia has been featured in magazines such as Seventeen, Jane, Allure, and Paper, and is fast becoming an established television personality thanks to network spots on MTV, ABC, Fox Sports Net, and Fuel TV. When Kassia is not chasing waves she is hanging with her dog, working out, or planning her next project.
Check out more from the Supergirl Jam!
Vote for Supergirl in the Best Multi-Sport or Multi-Discipline Event award!
Tags: Supergirl, Supergirl Jam